In the middle of the 19th century the megalomaniac (or mad, if you like) Maire Musgrove decided to build a bath in St. Mary Mead, in hope of "fresher air at the council meetings". Many villagers thought this was much too extravagant for their little town, but now that it's there it is highly appreciated. To spend a day at the bath is refreshing for body and soul!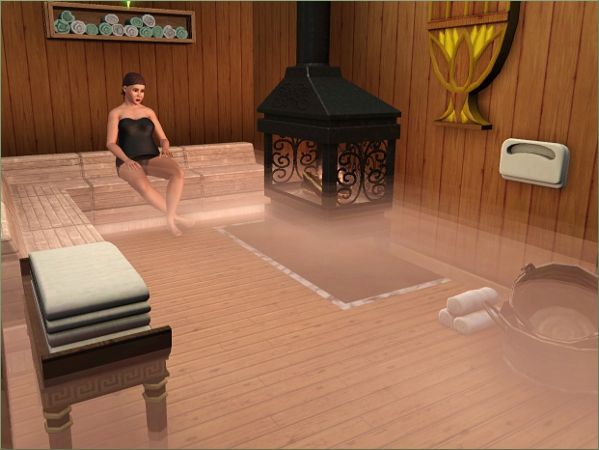 You can see all the pictures from this lot
here
.
Note! No sims or vehicles included!
Info about this lot
Community lot - Pool
Lotsize: 20 x 15
Price furnished: (72 828)
Price unfurnished: (48 688)
Fully furnished and decorated
2 floors and roof garden
Ground floor:
Reception, dressing rooms, outdoor pool, hot tub, mineral baths
First floor:
Rest area, W.C., sauna
Roof garden:
Self-service bar, sunbathing area
Please note before you install:
You must place the bath on a Community lot 20x15 or larger, defined as "Pool" for it to work properly. (If you are not sure how to do this, see
this explanation
.)
There are items on this lot that are not from the basic game, as listed below. Note that CC items will be installed in your game with the house. Items from The Store, Expansion packs (EP) and Stuff packs (SP) that you don't have will be replaced with items from the base game. If you want the house to show up in your game exactly as in the pictures, you will need the expansions/stuff packages below and the listed items from the Store.
Info about this upload
CC items: My most sincere thanks to the creators - you make this game so much more interesting!
Store items:
EPs: World Adventure, Ambition, Late Night, Generations, Pets, Showtime
SPs: High-End Loft, Fast Lane, Outdoor Living, Town Life, Master suite, Katy Perry's Sweet Treats, Diesel
The Public Bath
Happy Simming!